Written by one of our UniHomes brand ambassadors
Olivia
As restrictions have finally eased, we're ready to go all out this summer and rave in style. There's no better way to celebrate the end of another year at uni than with your mates in a field. To make your camping trip an all-out success, however, you need to know what to take to a festival…
*Most importantly*
1. Portable charger 🔌
Now this might be an obvious one, but trust me, it's a lifeline. An investment into a reliable charger should be your priority, especially if you're an avid festival-goer (when I visited Leeds festival it was my prize possession!). Not only will your phone be ready to take selfies at any given moment, but your speaker will always be on point too; meaning that you'll always have a beat in the background when hanging around your camp site.
2. Camping equipment ⛺️
If you require your beauty sleep, the best items you can bundle into your bag include a thick yoga/gym mat, a pillow, ear plugs, and a good quality sleeping bag. The gym mat will allow you to gain some much-needed support between you and the VERY uncomfortable ground, and a decent night's sleep is impossible without it. On another note, whether it's summer or not, remember you're in the middle of a field with nothing but a tent, and no matter how many layers you wear, your thick sleeping bag or blanket will always complete the ensemble.
Don't forget a tent! 🤪
3. Toiletries 🪥
3 days without showering after being in sweaty mosh pits? No thanks.
The best thing I did when packing was ensuring I had the essential toiletries sorted, including deodorant, dry shampoo, toothbrush/toothpaste, hand sanitiser, plasters and most importantly, baby wipes! Baby wipes are great to clean everywhere whilst you're unable to shower. Not only are they gentle on the skin, but they're great for wiping off makeup too. Plus, don't forget a high UVA sun cream, as there's nothing worse than burning in a field all day. Finally, you may want to consider tablets such as paracetamol or ibuprofen – which should be consumed with food (those festival hangovers are a killer!).
4. Snacks & alcohol 🥨
As skint students, festivals aren't always our friends. There may be a shop on site, but I can guarantee you'll save a fortune by buying your own crisps, biscuits, and of course, alcohol* before heading there. Crisps are one of my favourites, as they're light and barely take up any space. On another note, although it's unlikely many of us would forget a selection of beverages, it's always worth checking-in with your group beforehand so you know what everyone is planning to bring. My go-to drinks were mini bottles of wine, as they make great pres when sitting around waiting for acts. Don't forget to bring a refillable water to stay hydrated too!
*For ages 18+ only. Please drink responsibly.
5. Jumpers and waterproofs! ☔️
Yes, it's summer, and yes, it's usually warm, but can we EVER guarantee hot weather in the UK? It's essential to have hoodies and waterproofs to store in your tent just in case. I took a foldaway waterproof to my most recent festival and it was a godsend… the last day it rained, rained, and rained. Plus, if you get cold through the night, your jumper will become your bestie.
6. Boots / old trainers 🥾
It'll come as no surprise that festivals get muddy. It could be a clear, sunny day and your shoes will still end up caked in muck. This is especially worse if it rains - even if it's just for an hour or two. To this day, my boots from 4 years ago STILL have stains from their first festival experience. My advice would be to buy some quality wellies, trainers (not white) or boots. You could also consider making use of an old pair you have lying around. Thick socks are also essential for avoiding unwanted blisters.
7. Cash 💷
Nowadays, cash seems redundant, especially since COVID. For me, though, cash is still super handy to have on you – just double check on the festival's website beforehand that they're still accepting it. This also means if you get stranded, or your card gets lost/declined, you still have a method of being able to pay for things. Of course, cash at a festival is risky, so don't be inclined carry large quantities and keep it safe.
8. Bum bag 👝
The ultimate festival attire. And the best way to keep your money, phone, lip gloss or other essentials safe.
There are many options to choose from, from high-end to second-hand, and from funky patterns to plain. I personally go for a black leather one (boring I know) but it tends to work great with all outfits. It also has mini pockets either side of the main pocket, that are the perfect size to fit emergency cash, blister plasters and eyelash glue (my main uses). If you don't have time to purchase a bum bag, any small-ish bag which you can strap tightly to you will do! Just ensure it keeps your things safe.
If you have the main necessities from my list, you should be able to have a safe and sound festival experience.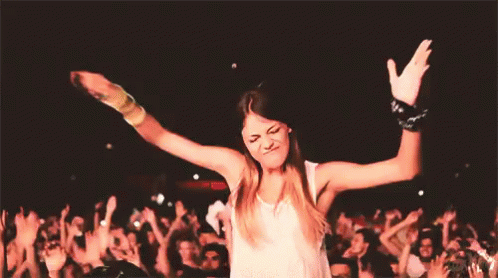 Happy raving besties x